I've found a few new closet favorites at J.Crew this year, but the Giselle Sweater-Blazer is (sadly) not one of them, which is why I held off on sharing photos until now, when it's on sale in the "Summer Green" colorway pictured here.
For me, the piece fell short on two fronts: 1) the lighter-weight material–35% cotton/35% polyester/30% merino wool–is very similar to the one used for the Camille Shrunken Sweater-Blazer (reviewed here), but in a longer form the fabric doesn't have sufficient weight to provide structure, resulting in the piece looking droopy, and 2) the brassy shank buttons, while visually pleasant, pull on the fabric, and don't appear to be sewn on properly (unsure if intentionally under sewn to prevent fabric tearing or if just rushed since shank buttons are handsewn).
The style is undeniably versatile, though; it can be worn to elevate a simple tee and jeans look, or thrown over shorter dresses in the warmer months to protect against aggressive air conditioning. In a darker colorway, or when buttoned up, the button issue isn't noticeable.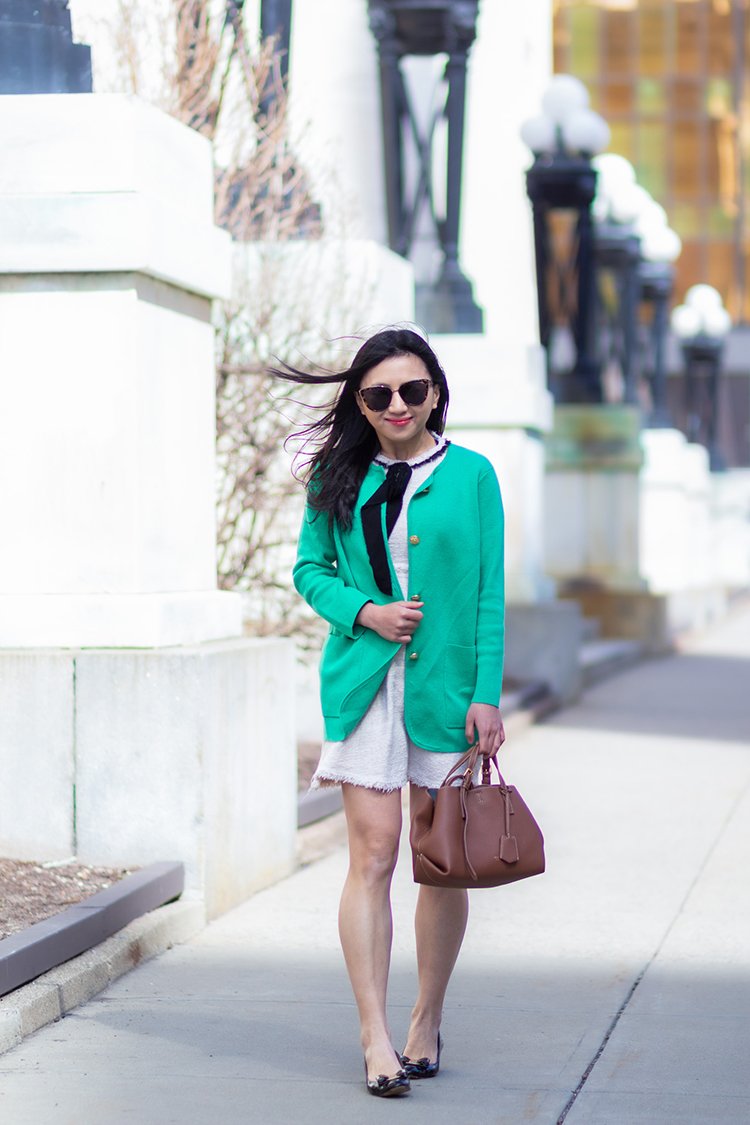 In the end, I decided to keep this piece despite my many gripes (though its droopiness wasn't an issue I was immediately attuned to), as I like the cheerful jade green and the button issue can be easily remedied.
For anyone interested, the Giselle Sweater-Blazer is available in six colorways online, and the "Summer Green" and "Navy" colors are currently on sale.